20 Years of Advocating in China
The European Union Chamber of Commerce in China was founded in 2000, with a goal of establishing a common voice for the various business sectors of the European Union and European businesses operating in China.
We have been helping:
European businesses to understand policy and market conditions, resolve their advocacy issues and expand their networks in China;
European authorities to understand the Chinese market and the operating conditions that European businesses face in China; and
Chinese authorities with constructive policy recommendations provided by various industries with a unified European voice.
We will continue to advocate for the future.
#AdvocatingForTheFuture
Celebration Events Gallery
VIP Webinars Replay
To celebrate our 20th anniversary, the European Chamber hosted a 'VIP Webinar Series' in May 2020 with the world's leading industry experts, scholars, political consultants and strategists, on a variety of topics including economy, politics, technology, sustainability, EU-China relation and EU-China-US triangle. Guest speakers include but not limited to:
Phil Hogan, EU Commissioner for Trade
Virginijus Sinkevičius, EU Commissioner for Environment
Jyrki Katainen, Former Vice President of EU Commission and Prime Minister of Finland
Mikuláš Dzurinda, Former Prime Minister of Slovakia
Pascal Lamy, Former EU Commissioner for Trade and Director-General of WTO
Peter Mandelson, Chairman, Global Counsel; Former EU Trade Commissioner and First Secretary of State
Cecilia Malmström, Former EU Commissioner for Trade
Charlene Barshefsky, Former US Trade Representative
Watch the replay on Youtube channel and Tencent video channel.
EURObiz Special Edition
Download a special EURObiz issue marking the 20th anniversary of the founding of the European Union Chamber of Commerce in China.
It charts how and why the Chamber and its various chapters were formed; the advocacy work by Chamber members, working groups and staff; and some of the Chamber's plans for future development.
EURObiz is the bi-monthly journal of the European Union Chamber of Commerce in China.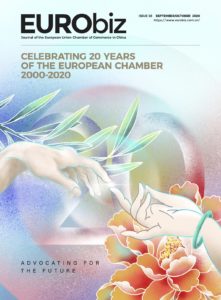 Milestones of Past 20 Years
The European Chamber had an impact right from the start. Our regular and high-quality publications are the key to strengthening our credibility. Their ever-increasing relevance and the continuity have been a common thread throughout the 20 years.
2003
EURObiz Launched as the Monthly Magazine;
First Trip to Brussels to Present Position Paper, Annual Since Then.
Grew to 20 working groups;
Membership: 350.
How We Change…
For the past 20 years, the European Chamber has organised numerous high- and working-level meetings for our members with both the Chinese and EU governments. The Chamber has also drafted and submitted hundreds of comments and letters to competent authorities in China, in order to raise concerns and provide constructive recommendations on how to resolve them.
This work is recognised and welcomed throughout the Chinese Government and European institutions at all levels, and has helped to solve countless problems across many different industries.
How We Made…
Quotes and interviews of government officials, leaders from international organisations, previous and current members and staff…
Looking Forward
We are navigating in the dark. The European Chamber continues to move forward during these times of uncertainty with a strategy of preparedness, action, and solidarity. We cannot predict the future, but surely we can shape it.
We look forward to hearing from you...
#euccc20years
Whether you are a previous or current member or staff, whether you attended our events or read our reports before, you are welcome to tell us more about your experiences with the European Chamber.
We would be delighted to hear your stories and will share some of them on this website.
You can also post your story on LinkedIn or Twitter with #euccc20years and @EuropeanChamber.